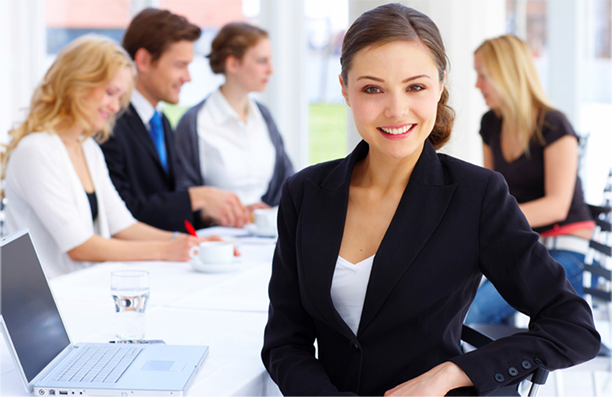 A Simple Web Based Employee Time Clock and Workforce Scheduler.
Web Based Clock In Devices
Computers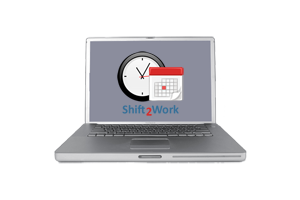 Our Shift2Work's web based employee time clock and scheduling program can be accessed through the internet while using any of your office PC or Mac computers. You don't need to purchase any special equipment or program. There is no software to upload or maintain. Restricting access to the program either by device or by IP address is easy and it will block employees accessing the clock in and out option outside the workplace.
Tablets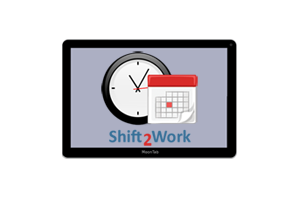 Shift2Work's employee time clock and workforce scheduling program is touchscreen and mobile device friendly so that employers and supervisors can easily use their tablet to view their staff's work schedules and online time cards.
Smart Phones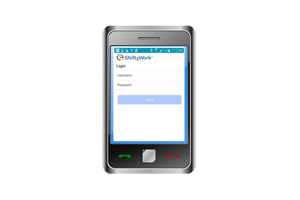 Readers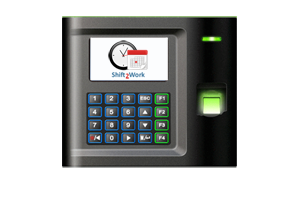 Our Shift2Work readers are preconfigured to connect directly to your web based time clock program using a network cable so the time punch is sent directly to your employee's time card in real time. No waiting or having to use a computer or USB drive to upload the time.
Fingerprint Reader - If you are concerned about time card abuse or buddy punching, we recommend using our biometric fingerprint reader function. Employees cannot share their password or give their card to someone else to clock them in or out. They have to be present to register their time punch. New optical sensor technology has improved to read fingerprints faster and better than ever before.
Face Reader - The facial recognition reader is perfect for industrial, restaurant or custodial workers that may have worn fingerprints from working with chemicals or masonry or dirt. The reader camera will capture the facial image and instantly record the time punch to clock in and out into the employee's web based time card in real time.
Card Reader - Employees can quickly clock in and out when using a card or key fob. The employee just places the card close to the card sensor to register the time punch then the reader will send the time punch to the employee's time card online and vocalize when the time punch is recorded.
Features and Services
Time & Attendance
Easy - Secure - Accurate
➮ Easy web-based employee time clock
➮ No special equipment or software required
➮ Restrict access by location or by device
➮ Compatible with fingerprint, card, or facial readers
➮ No setup fees or contracts - training included
Learn More
Workforce Scheduler
Easy Scheduling - Monitoring Tools
➮ Easy online workforce scheduler
➮ Schedule maximum and minimum hours' requirements
➮ Tardy alerts to quickly schedule staff replacements
➮ Supports multiple shift scheduling
➮ Time clock integration and more
Learn More
Employee Time Card
➮ Simple user friendly navigation
➮ Easy clock in and out
➮ Accurate time card reporting; daily, weekly, and pay periods
➮ Paid and unpaid break and lunch time tracking
➮ Track hours worked at worksites, on projects and tasks and more
Learn More
Payroll Hours Reporting
➮ Online detailed, individual or summary reporting 24/7
➮ Export payroll hours to import into your payroll software
➮ AHA and DCAA compliant to meet labor law requirements
➮ Accurate time totals with overtime and double time reporting
➮ Leave accrual and usage reporting and more
Learn More
Testimonials
Testimonials
Customer service and satisfaction is our top priority!



LMS Physicians Care
Gelson Vieira.
"Thanks for the good service
on the time clock for LMS!"


CSG Visual Communication, Mandy Perry

"Thank you Steve and Wendy.
Everything is good so far and it's an awesome software to use!"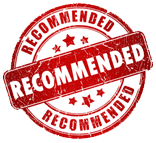 Shift2Work is highly recommended by our clients.

Intermed SoCal, Kristin King
"Our experience with Shift2Work has been very positive. We are satisfied with the time clock program and how easy it integrated into our payroll software, Wells Fargo Payroll"




Garcia Hernandez Sawhney LLP
Joy Izumi, Legal Assistant
"I'm very satisfied with Shift2Work and find it easy to use.
Thank you for your great service to us."